Case Study 1 - Letter, Fax, Memo Templates

| | |
| --- | --- |
| Challenge: | Users sending out differently styled, non-brand conformant documents |
| Solution: | Highly-styled templates with powerful automation dialog front-ends to validate data and handle the document population |
| Benefit: | Council now issues highly conformant documents which are quick and easy for users to produce and change |

This advanced set of templates are used by more than 2000 users in a busy local government. Users see the toolbar from which they have quick and easy access to the templates.

The letter page is a sophisticated structure of contact information, logos and graphics. The dialog enables this letter to be created easily and quickly.
The dialog looks complex but in fact it is almost entirely pre-populated from previously remembered information or by list selection. The dialog has many features:
deduces address length and warns if address falls outside envelope window
pre-populated with today's date
allows max 3 logos
updateable list of offices
reads recipient info from Outlook
updateable personal recipient and sender list
validates data entered
A particular feature of the dialog is its rerunability. Say the user having created the letter wants to change so of the information. They press a rerun button and the dialog is redisplayed exactly as it was when they created the letter. User can then alter the selections and re-populate the letter.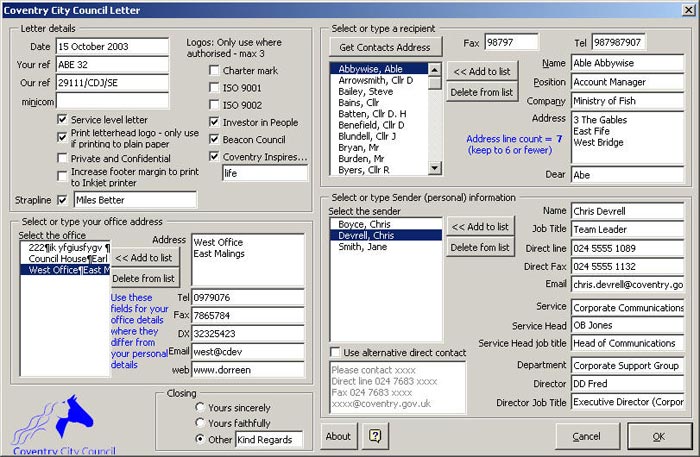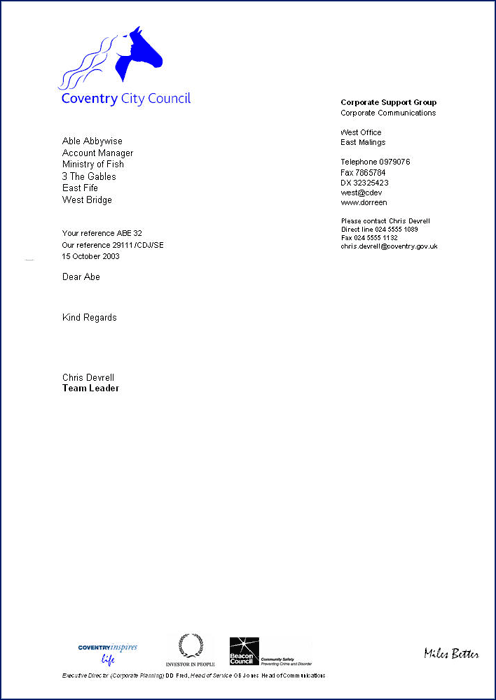 These templates and tools yield enhanced document quality and productivity and deliver significant savings in time and effort - a tiny sample of what we can do. Get in touch for more detail. Contact Chris Devrell at chris@cdev.co.uk or call +44 (0)2380 74 0990.